Kiwi deals site 6Shooter.co.nz are running a "Win an iPad 2" competition in March and April! All you need to do to be in the draw for an iPad 2, is to register for their daily deals email.
One iPad 2 will be drawn in March, and a second will be drawn in April. To be in the draw you must remain on the list for at least the full month. If you are already subscribed to 6Shooter's daily deal emails (good on you!) then you are automatically entered in the draw. But if not, get registering now :)
6Shooter is one of the longest standing New Zealand Deals sites. Offering all manner of exciting stuff from cosmetics and beauty products to toys and games, household appliances, computer accessories and a few surprises along the way! There's sure to be something to take your fancy.
Remember that there are 6 deals EACH DAY on 6 Shooter...hence the name. That's way more product variety than "3 deal" sites, and this means more chances for you to grab some sweet bargains each day.
Log on to 6Shooter.co.nz right away and check out Todays Deals. Remember to register for their daily deals email to be in the draw for one of the iPad 2's! (The email register box is at the top right of the home page)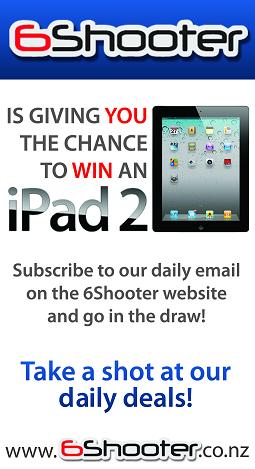 Terms and Conditions can be found here.