In case you hadn't noticed, in January GrabOne passed 3 million vouchers sold. This is of course new territory for the New Zealand Daily Deals market.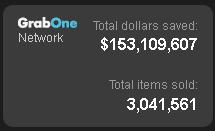 Just over 18 months old, the figures above are pretty staggering for a start up business. This sort of growth allows for some interesting alternative names for Grab One: Grab Three Million, Grab All, Grab Everything!
It fair to say that with a 65% market share, GrabOne is fully entrenched in the number one spot. It would be near impossible for another site, existing or new to take that position away from them. Its classic 'first mover advantage' stuff. The first business to become popular in a new industry will gain a strong advantage and retain their lead going forward.
The exact same situation happened with TradeMe and eBay back in 2000. eBay already had an auction site running in New Zealand, albeit a very crappy one. It hadn't taken off, not many used it, and it primarily displayed USA listings. TradeMe came in as a local player, built a better site, gained a small following and capitilised on it well. The rest is history on that one. Read this article for the TradeMe Story.
As for daily deals, Grab One certainly wasn't the first voucher site. DailyDo was the first to start the concept here. Groupy even launched a week or so before GrabOne. But GrabOne built a strong team of in-house developers and sales staff. GrabOne's marketing partnership with APN (owner of the NZ Herald) meant the word got out in print and billboards, meaning they became a household name fairly quickly.

Also the effect of word of mouth spiraled the concept and popularity grew exponentially. And lets not forget the deals. The deals themselves were a marketing point for their value, which drove word of mouth. From the get go, GrabOne was destined to be successful. The management team were (and still are) hungry to be the largest and be the best. Unlike TradeMe, which existed on a shoestring budget, with no advertising.
The vouchers market has been competitive, as the major players vied for position. After looking at the growth of vouchers overseas, gaining a foot hold in a local vouchers market tends to be about marketing and advertising. Grab One certainly followed the right path. World Leader No1 Groupon, were just to late to the party, as were eBay in online auctions. Luckily for Kiwi companies, NZ gets left to last in the world domination game. NZ is a small market globally, and there are bigger fish to fry overseas.
So where does this leave us now? While the major players seem to have settled to accept their current positions, it still means that there are lots of deals to be had. Grab Three Million is still powering ahead, and at the end of the day, its not about how big a site is, its the deals that keep everyone coming back. Grab One Instant is a new innovation that will further cement their lead in the NZ industry.