BackpackerDeals.co is a new website designed for kiwis to see more of our country. It's a simple premise - Backpacker prices on fun things to do around New Zealand.

We are all guilty of it - taking what we have for granted. New Zealand is one of the most beautiful places on earth, but how often we really get out and explore our own back yard.

Have you been to Fox Glacier, Marlborough Sound or Cape Reinga before? Do you know your way around the North Island? The South Island?

People travel halfway around the world to see the stunning scenery that NZ has to offer. Yet, how often do us kiwis opt to take a trip to Australia, or overseas. Too often! We have world class holiday locations right here. We just need to get out and experience them.

An international holiday is 20x the hassle of seeing your own country. If you have a few days off coming up, don't spend it at home. Book a holiday on a different Island. Go see the South Island if you've never been there. Go see Auckland if you've never been there. You don't need weeks, just a few days experiencing a different part of the country is all you need.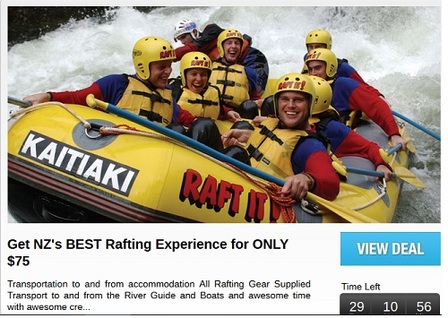 One of the many deals on offer right now on BackpackerDeals.co


The great part about about exploring our own country is that it's a heck of a lot cheaper than an international holiday. You can do a lot more because you aren't spending thousands on flights.
Things are even cheaper now with Backpacker Deals. It's the best of both worlds. Cheaper holidays in our own country, and cheaper ways to do fun things while we are out exploring New Zealand.

If you don't have any holidays coming up soon then why not see what fun deals are available right in your home city. You don't need to be a backpacker to get backpacker prices. Check out BackpackerDeals.co and see what fun things are on offer in our very own New Zealand.

www.BackpackerDeals.co