Our friends at BestHotelDeals are running a sweet competition for the run up to Christmas. You can win 1 of 5 nights for FREE in an hotel of your choice.
To enter, head over to the BestHotelDeals Facebook page https://www.facebook.com/MCHNZ and click the Like button. From there you can enter the draw, all seamlessly on Facebook!

Some of the Lowest Priced Hotel Accommodation Deals in NZ
If you are planning to get away over summer (and lets face it who isn't) then jump over now and check out some of the extremely cheap rates for hotels throughout New Zealand. They have some nights going for only $49!
That's a night in a fancy hotel for $59. That's insane! You'd pay that for a tourist cabin at a holiday park. Check out the Deals here:
http://www.besthoteldeals.co.nz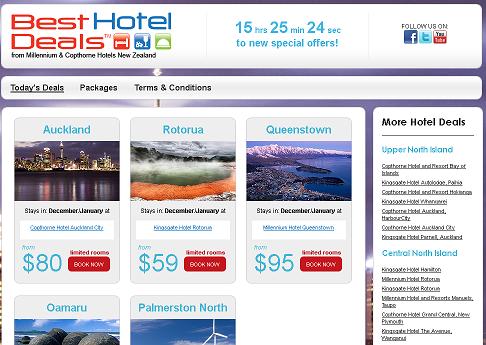 http://www.besthoteldeals.co.nz/
---