It's that time of year where the entrants of the Deloitte Fast 50 are announced. The Deloitte Fast 50 tracks New Zealand's fastest growing companies each year. Activity booking site BookMe.co.nz has won the Rising Star award for the Otago region.

Deloittes Rising Star award recognises businesses that do not meet the Fast 50 criteria, such as being in operation for 3 years. BookMe has been going just over 2 years, since the Feb 2011 Christchurch Earthquake so hasn't qualified for the main Fast50 index just yet. But that hasn't stopped them from winning the Rising Star award for Otago businesses.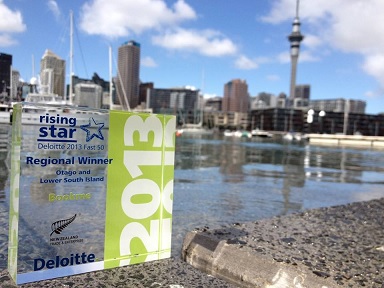 Based in Otago, BookMe had its start in the tourist hotspot of Queenstown. Starting small but growing rapidly, BookMe expanded across the South Island. BookMe is big on adventure tourism mainstays such as Shotover Jet, Milford Sound Cruises and Bungy Jumping. In the past year BookMe extended to the North Island and is offering deals in Rotorua/Taupo and Auckland.

BookMe offer tours, adventure rides and almost anything tourist related. Deals are offered on behalf of local businesses and pricing is pretty sharp. How BookMe works is they allow you to choose your time slot in advance. Pricing is different for different times and days of the week, so you can weigh up savings vs the times available. This puts the power in the customer's hands.

Many times when you buy a traditional daily deal, you have a hard time booking a good time with the business concerned. Business owners don't want discount customers coming at peak times when they could have full price customers coming in. As a customer you are often blocked from booking on certain days of times with your daily deal.

BookMe solves this problem by allowing you to select your exact time slot at the time of purchase. Business owners won't resent you as a deal customer because you have chosen one of their pre-selected times, and received their discount according to demand.
Business owners love BookMe as their can sell their off peak time slots for a discounted rate, but at least still get a customer in the door. This approach works better for businesses as it increases their bottom line, while not alienating their full price paying customers. The BookMe model in essence works better than the traditional group buying model.

Users can go the the BookMe site and a see a whole range of deals for things to do. If you check the site at the right time, BookMe often have deals under $5, but they aren't traditional daily deals site. Deals are constantly changing based on the time slots available. Special deals and new time slot deals are added on a daily basis. When a slot is booked by a customer, its booked and everyone can see the time is taken, so your options get smaller.

So there is a slight "impulse buying" nature to the site if you want to book on a particular day. But if you are planning ahead for a holiday or outing, you can select time slots well in advance. The site has a timetable when you can see exactly what times are available, and the price you would pay to take that time slot. Great for short term bargain hunters, and long term planners alike!

BookMe now covers 5 regions around New Zealand: Auckland, Rotorua/Taupo, Christchurch, Queenstown and the West Coast. Their Auckland page has a large range of activities on offer. But just because they are heavy on tourism activities dosen't mean BookMe is just for tourists.
Whether you are a kiwi having a holiday in another part of the country, or you just want to explore your own city, BookMe is a great way to try those activities you've always wanted to. You'll love the discounts, and you'll receive better service than if you'd purchased a daily deal.
And if you're heading across the ditch, BookMe is already offering deals in certain parts of Australia. A great kiwi idea, spreading it's wings overseas. The next area to get the BookMe treatment is Northland. The Bay of Islands, and Cape Reinga are a key tourist spot and we think they'll do very well up there.
The Deloitte Fast 50 awards are on November 6th. After winning the Otago rising Start award, BookMe are in the running for the National Rising Start Award. Best of Luck!
Visit BookMe.co.nz
Facebook: https://www.facebook.com/NewZealandDeals