In case you missed it last week, new site Cudo.co.nz has launched.
Carly Flynn (ex TV3 News presenter) will be promoting the Cudo daily deal on her radio show. Cudo will also advertise the deals 5 times daily between TV3 and FOUR. If that wasn't enough 10 NZ Radio stations will also be promoting the deals throughout the day. This penetration will help take these online deals into the mainstream.
Here is a screen shot of their deals page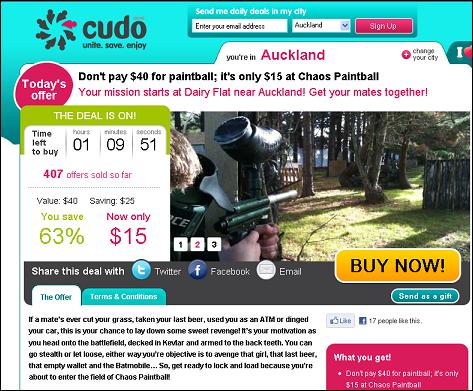 Cudo is a joint venture between Mediaworks and Microsoft NZ. Mediaworks owns TV3 and C4, and also the Radio Network which run a larger number of radio stations such as The Breeze, The Edge and The Rock. The Cudo name is also licenced from Australian PBL Media who run Cudo.com.au
The entrance of Cudo to NZ marks the final major media company to launch a group buying site. All other major media companies have launched group buying sites which makes this a hot category, and one that is here to stay. This is going to mean there will be a constant flow of deals to keep you deal hunters happy!