We've had a bit of a clean out on the homepage recently. Many deals sites are no longer active so we have removed them from the homepage.

As we have for the past few years, we've shifted these dead sites to our deal site 'graveyard'. The Daily Deal Site Graveyard is a collection of all the sites that have launched over the past few years, and have shut down.
The section also features active e-commerce sites that offered daily deals previously but have stopped offering them. These sites still sell other items, just not in the daily deal format.
The list now has over 50 entries. That's 50 sites that had a crack at the one day sale concept but didn't make it. Makes you shudder a bit huh!
New entries were over 10 sites which is a lot! This also included some long running sites like 6 Shooter.co.nz, Day Deal Sales and SupermarketSaver. 6 Shooter was I believe around site number 6 to launch. It was launched in early 2009.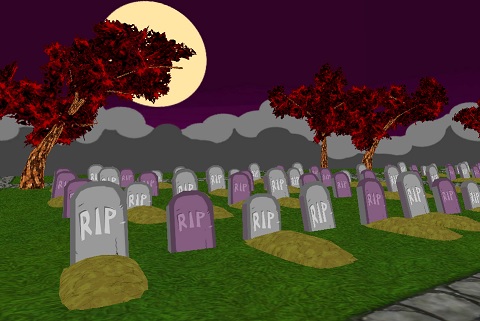 Casting an eye over the tombstones (list at bottom), it's also a point that there are two types of deals sites. Group Buying sites (vouchers for things to do, restaurants), and Daily Deal Sites (selling physical products).

A lot of these failed sites were group buying sites and unless you have a lot of money behind you, you shouldn't be starting a site like this. Its a tough business model, and there can really only be a few major players.
I saw too many one man bands try to start group buying sites. It just doesn't work. You need a sales team, you can't have you and a part timer. The major players in this world are GrabOne, Groupon and TreatMe and they are well financed.
No one, not even a business with millions of dollars could compete in this area, at this stage of the game. It's already stitched up with the major players.
The other type of daily deal sites are those selling goods. This business model is actually still viable. This type of sites is also the easiest to start, you just need a few suppliers of products and you are away.
You can make a nice living with a product daily deal business. You won't become a top 5 site but you can build a nice business. To build a big business even remotely resembling the leaders 1day and Red Alert, you need to be selling brand name items. And that is where it gets harder.
It's easy to find a few factories in China and ship some containers over. The problem is that people don't really want generic junk. And if they do, they only want to pay a few dollars for it.
If a customer picks up a cheap generic yoga mat for $9 from you, are they going to tell everyone you know? No way. But if they get Reebok Shoes at 60% off the store price, they are are going to tell everyone.
That's how 1day became so big. Not by selling all the cheap, generic, no brand, Chinese crap under the sun. And that's why selling brand name items is the only real way to go to grow your business.
Word of mouth is a key component of growing any business. You need to wow customers, and in the daily deal game, you do that by offering well known brands at amazing prices. Boring Chinese made junk isn't inspiring to customers.
There is also the fact that the two top deals sites 1day and Red Alert are owned by The Warehouse. A billion dollar company with unlimited buying power. A tough competitor! I'll be publishing an article soon titled: "Should you start a daily deals site". It will give advice, and will be a reality check for anyone considering starting a deals site. I will post a link here once it's live in about a fortnight.
In the meantime, glance over the Graveyard below. It's an eerie feeling. Lots of broken dreams, lost money. But on the bright side, thousands of combined customers served.
The Graveyard
GetaDeal.co.nz

SocialBuy.co.nz

LetsGetIt.co.nz

CatchoftheDay.co.nz

1DayOut.co.nz

DealMate.co.nz

WeeklyDeals.co.nz

DVSDeals.co.nz

Deal-Day.co.nz

Wowcha.co.nz

WineDay.co.nz

FragranceX.co.nz

Hot4Deals.co.nz

1-DayCellar.co.nz

KidzGrab.co.nz

BizDeal.co.nz

GetAgain.co.nz

SweetDeals.co.nz

GameaDay.co.nz

TechMarket.co.nz

TheSale.co.nz

Ziwi.co.nz

SweetAs.co.nz

DailyWeddings.co.nz

DailyMums.co.nz

TodaySale.co.nz

Deals4Locals.co.nz

SupermarketSaver.co.nz

6Shooter.co.nz

Active Sites, But No Daily Deals

ModernDeal.co.nz

GroovyBaby.co.nz

TrigInstruments.co.nz

ITDeals.co.nz

DailyOffer.co.nz

Divvideals.co.nz

MegaDeal.co.nz

LovrichWines.co.nz

Quickys.co.nz

FlockingGoodDeals.co.nz

Zee1.co.nz

DailyRead.co.nz

SpreadaDeal.com

BizBuz.co.nz

RuralTrader.co.nz

1dayFishingSale.co.nz

GrabOneFamilies.co.nz

GrabOneHomeandGarden.co.nz

Ltd.co.nz

RedHotDeals.co.nz - Deals not frequent

Cudo.co.nz

Zoggi.co.nz

DailySupps.co.nz

Hyper.co.nz

TradeMe Daily Deals

iLoveDeals.co.nz

1dayTee.co.nz

HugeBargains.co.nz

Top-10.co.nz

Deals4Kids.co.nz

DayDealSales.co.nz

Spreets.co.nz (Resurrected!)

MTImports.co.nz

DaySale.co.nz

BookShake.co.nz