After launching only a few months ago, it seems that DailyDo.co.nz has shut down their daily book deals site: DailyRead.co.nz. The website currently shows a farewell statement: (Abridged)
"Well I guess you're here looking for your daily literary fix, but we've got some sad news Dailyreaders - it's time to say goodbye to Dailyread…Because we love you Dailyreaders so much, we want to ensure we're offering you only the highest quality of books at the lowest possible price - which is why we've decided to keep our focus on quality over quantity.

Instead of featuring two books each day on Dailyread, we're going to search high and low to find a few really, really good reads to throw into the mix over at every now and again. So although we won't be updating Dailyread anymore, we're still committed to finding you the best book deals around - so join the Dailydo mailing list to ensure you don't miss out on the literary gems we uncover!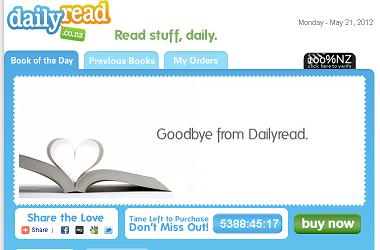 So the question of course is why did DailyRead close down? Obviously there wasn't a return on investment for DailyDo. The fact that none the bigger players (1day, GrabOne) have entered the books market, might mean that the market is not worth attacking. From where we are standing the books market seems pretty fragmented, with thousands of new titles each year. Only a handful of these titles are going to be anticipated so the excitement level isn't there.
I wouldn't purchase a book that I had never heard of before, so the impluse factor is not present. Also, like the films and dvds market, there are tight Copyright Acts in place to protect movie and publishing houses. Getting your hands on a new release title can be difficult, if not through book store channels.
There are still a few other players in the daily deal books space. Check them out on our Book Deals page.