Last week we discussed GrabOne's milestone of reaching 9 million deals sold. It also seems around the same time as they past 9 million vouchers, GrabOne removed their public deal counter at the bottom of their site.
This counter showed both the number of deals/voucher sold, and the value of dollars saved. It was a handy little thing that has been on the site since the beginning in 2010.
GrabOne Deal Counter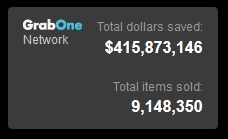 When all the Group buying sites started popping up, they all had deal counters at the bottom. Borrowing from Groupon in the USA, it was a way you could gauge which sites were more popular than others.

But as dozens of group buying sites closed down (in fact there are only a handful of group buying sites left) seeing deal counters became rare. Indeed there is only one other site I know of that still displays their deal counter and that is TreatMe.
TreatMe Deal Counter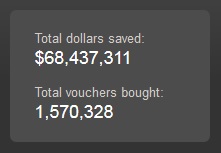 To date, TreatMe they have sold just over 1.5 million vouchers, and saved Kiwis 68 million. So it is a lot less than GrabOne, but when you have 65% market share its hard to get your numbers up when the other site id growing at a faster rate. Groupon NZ no longer displays a deal counter either.
The obvious downsides for businesses are that competitors can see how much you are selling at and what rate. But if you are first or second it was a bit of bragging rights. With GrabOne holding such a commanding position in the market, their deal counter has been a good reference point for many to see how the industry is tracking.

Prior to removing the counter, GrabOne had saved kiwis over 400 million dollars since they started. So when they reach 10 million deals sold later this year, they will also be close to passing 500 million saved. That's half a billion dollars. A great effort!
Why did GrabOne Remove it?
Now why would GrabOne want to remove their deal counter? To be honest I don't know why they had one there in the first place. Most businesses don't want their competitors to know roughly how much they are selling.
So it's a surprise they had one to begin with. And I'm am very surprised that they lasted this long. The hype died down in 2012, so I thought they were bound to go then and growth rates slowed. But as I mentioned above, if the top site in the world (Groupon USA) has one then you follow suit.
There are a number of reasons why they may have removed it now, after almost 4 years:
- Slowing growth - The company is pretty large with hundreds of employees. They don't need to be seen to be growing fast. And let's face it, just like TradeMe their growth rate has slowed. They may not want it analysed.
- No sites have them anymore. There were only 2 sites to still use one, so it's not really necessary anymore.
- GrabOne are now offering Free Coupons, so do they include free savings in there? As the coupons are free it would skew their paid voucher numbers. So they perhaps just decided to can it for all the reason listed above.
So, the famous GrabOne deal counter is gone. Will TreatMe follow suit?