A few weeks ago we reported that Facebook was having another go at launching a daily deals service. It seems that Facebook Offers is now live in New Zealand.
Now it's not what you think, Facebook aren't actually offering deals themselves. How Facebook Offers works is that if you have a business fan page, you can send out an offer to your Facebook fans.To read more on How facebook Deals work for businesses go here.
Already some New Zealand Businesses have started using Facebook Offers. One we've seen is NutritonDeal.co.nz (who also happen to be a daily deals site as well). We are subscribed to their facebook page so we saw the offer in our timeline.
If you are wanting to see what Facebook Offers is all about, unfortunately you can't just sign up somewhere and start receiving them. Deals are issued by individual businesses as they see fit. And you need to be a fan of the businesses page to receive the offer.
Some businesses obviously won't make offers, while some will use the facebook system frequently. Tghe best idea is to simply like your favourite stores facebook pages, and hopefully they will make an offer to their fans. If you think a particular store should run an offer thru their facebook page, then why not post a comment on their page :)
Here's how Facebook Offers works:
1. You become a fan of a business Facebook page.
2. They can load up an offer thru Facebook. The offer goes to your News Feed.
3. If the offer appeals to you simply click on the "Get Offer" link and the offer email will be sent to your email address.
Once we clicked "Get Offer" here is the email we received: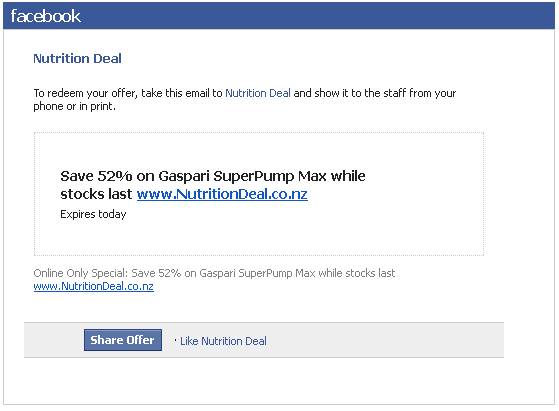 This system is a not intrusive way to get daily deals out there. Your inbox doesn't get clogged up with lots of emails, and you only receive the offer that you have asked to see. We think there is some great potential in this new form of daily deals. If you've seen other kiwi businesses running Facebook offers please let us know on our Facebook page.