Get Again is a brand new kiwi deals site that has just launched on the 1st of April. Get Again is brought to you buy the same team behind product daily deals site DayDealSales.co.nz. Their new site GetAgain will feature Experience Vouchers, and Daily Deals products meaning you get the best of both worlds.

Get Again is different in so many ways but one of the key differences is that they have a facebook app that allows you to buy the deals directly on Facebook. Yes, all deals are featured on facebook so just by adding the app to your facebook account you'll get a daily notification of the latest deal.
You don't even need to leave facebook. The feature is the first for a daily deals site! This is the first New Zealand site to offer a full daily deals site thru Facebook.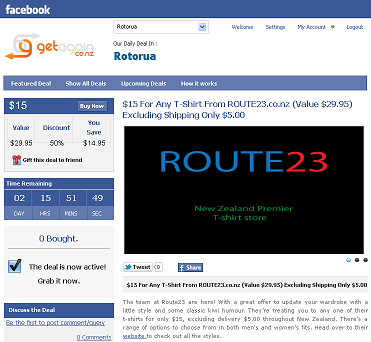 For those not on Facebook, or those who are still used to the normal style website, well they have a normal site too at GetAgain.co.nz. Get Again has many great voucher deals coming up. Make sure you are subscribed to get a notification of the new deals.
Choose your method:
On Facebook: http://apps.facebook.com/getagain/
On the website: www.getagain.co.nz
--
And view their facebook fan page: www.facebook.com/GetAgain