Kiwi success story GrabOne has hit yet another milestone this week - $200 million dollars saved. That's 200m still left in New Zealanders pockets, which has been much needed over the past few years.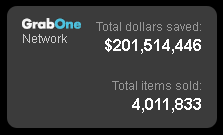 With the global recession, you'd think that kiwis would have wanted to stay home and not spend any money. But GrabOne has kept "going out" an affordable prospect with 50% off restaurant, cafe, bar and food deals. Think about it, if there was no GrabOne, and no daily deal sites would you go out as much? We reckon not!
200 million is certainly a big number, and something that it quite incomprehensible. What a great milestone, and something that, in less than 2 years has grown from an idea, to the largest voucher site in New Zealand, with a 65% market share.
Along with this milestone, GrabOne also reached the 4 million vouchers sold milestone. Almost the equivalent to 1 voucher for every New Zealander! There is another milestone GrabOne will be reaching in July - 2 years in business.
GrabOne's Upcoming Milestones
1. 200 million dollars saved (Met)
2. 4 million coupons sold (Met)
3. 2 years in business (July 2012)
Congratulations to GrabOne for meeting the big 200. Looking forward to 300, 500 and 1 billion :)