It wasn't too long ago when GrabOne passed their 1 millionth coupon mark. This was in April in fact. Now just 4 months later, they have broken the 2 million vouchers mark!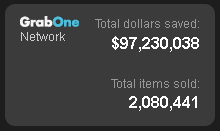 This obviously sets a new standard for all the other daily deals sites. No other site is even close to 1 million vouchers sold yet. The next highest site is TreatMe with 324,000. In 3rd place is Yazoom with 120,000.
GrabOne were surprisingly quiet about reaching the 2 million mark. Not even a blog post on it. But I guess a million here, a million there, dosen't matter to much when you are so far ahead of the competition.
What is surprising is the speed with which the second million took...
- 1 million vouchers sold (Time taken: 12 months)
- 2 million vouchers sold (Time taken: 4 months)

When will they hit the 3 miilion vouchers mark? 2 months? GrabOne continues to amaze me. Congratulations guys! 2 million coupons sold, a simply amazing feat in such a small country.