Congratulations must surely go to GrabOne for reaching 9 million vouchers sold earlier this year.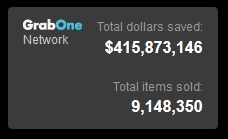 9 million is a mighty big number when you consider that there are only 4 million people in New Zealand. That's more than 2 vouchers sold to each resident.
But let's face it, kids are excluded from that (1 million). Senior citizens not online (500,000) leaving about 2.5 million potential customers. So 9 million vouchers among 2.5 million is approx 3.6 vouchers per person.
To be fair, this deals sold figure does include products sold too, so not that many people have used a GrabOne voucher. But still 3.6 deals per adult is pretty good.
Still out of that there are many hundreds of thousands of people who have never used the site. And at the other end of the spectrum you'll have deal hunters who have bought 30-40 deals (i.e. me!) so they skew the numbers a bit.
If we look overseas, there is a record for deals sold in one day: 1 million (yes, 1 million deals sold in a single day) but that is across the entire USA, and was a big loss making deal to get the numbers up.
All told, a great effort for New Zealand and looking forward to the 10 millionth later in 2014!