Update: GrabOne Instant is no longer a standalone service. It is been rolled in to the main GrabOne site.
Starting Today Auckland Deal hunters can grab deals on the run with GrabOneInstant. The new site is to cater to those who want to redeem deals the same day. Traditionally one group buying sites you have to wait to be emailed the voucher overnight.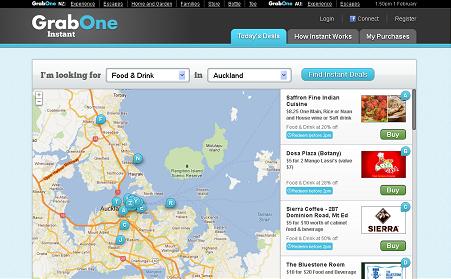 The new instant service allows you to purchase and print a voucher right away. Better still you can purchase the voucher and show it on your mobile phone to the merchant. Here's a Video explaining how the GrabOne Mobile App works.
Grab One Instant works best when the GrabOne App is used on a mobile device. Users simply enter their location and neighbouring deals will show in the vicinity. You can purchase a deal instantly with your saved credit card details. And if you just can't make it to redeem the deal, you get refunded back toyour account. Easy!
For merchants it offers a great opportunity to get customers thru the door the same day. If bookings are low for lunch or for the evening, a deal will provide a stream of customers, helping to fill downtime and keep staff from going home.
A deal can be added for your business easily online. Instant! You can choose the deal, the time it starts, and the time it ends - You have complete control. You can even scan the customers voucher using a supplied tablet reader, no more fussing about with paper vouchers.
Here is a video aimed at Merchants explaining the new concept:
GrabOne's Instant service is a direct play against TreatMe Now, a similar service launched by TreatMe (owned by TradeMe) last year. Some users have been disappointed at the roll out of TreatMe Now with a lack of appealing offers. GrabOne has a history of delivering well on their innovations, and they have thousands of merchants already on their books so it is sure to be a popular service. Lets hope consumers take to instant deals, as much as they have with vouchers deals.
GrabOne Instant launches in Auckland today (1 Feb) and lanches in Wellington next Monday 8 Feb.
Check out GrabOneInstant.co.nz