GrabOne Seems to have ditched their recently launched Free Coupons initiative in place of listings for overseas online deals. The question is why?
Back in April, I wrote a lengthy piece about the new Free Coupons on GrabOne.co.nz. This move was surprising as their customer base is used to spending money on the site. They've invested tens of millions in advertising, and people know you need to get out your wallet to get a deal on GrabOne.
So offering free coupons would seem counter-productive. It wasn't clear what the revenue model was. Do the merchants pay per coupon downloaded, or a flat fee per coupon, or per month. What we do know is that GrabOne weren't making a commission on the coupons being redeemed, as there were no individual coupon numbers or barcodes to track actual sales from what I can remember.
But it could have been a traffic play. If new people are coming to GrabOne for free vouchers, then that is more people who might actually buy a paid deal while they are there. Free coupons for well known NZ companies like McDonalds and Glassons etc seem like a big drawcard to me.
But conversely, if normally paying customers are now downloading free coupons instead of paying for them, then you cannibalise your business. There is also the possibility that the world leader in online coupons in the USA RetailMeNot.com was looking to do some damage here in NZ.
If they saw GrabOne as a strong competitor they may have delayed or even skipped over NZ as a new market. That's what eBay did when they realised TradeMe had the NZ market stitched up.
When you hear 'free coupons' you automatically think of a piece of paper that you take it to a shop. And that's how GrabOne's Free Coupons ran, albeit you downloaded and printed your coupon out.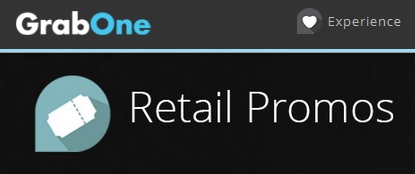 Fast forward 6 months and the free coupons are gone, we'll sort of. They still have the section but it has been renamed as 'Retail Promos'. To be honest they should have called in Overseas Deals - because that's what it is.
The deals on offer are essentially specials that are running on overseas websites. There are a handful of NZ deals on the page but most are offered by overseas sites where you have to get them shipped over. This "overseas online deals" concept is not new. It has been tried by several local deals sites - typically the Australian sites Cudo and Spreets that launched here in 2010.
The thing is, these two sites put overseas deals up only when they had given up on creating their own deals. These Aussie sites weren't making enough money to support staff here, so they closed their sales offices completely, and simply put up some online deals redeemable on overseas websites.
So, they were no longer actually selling deals and taking money. They were simply directing their existing traffic to overseas websites via their new affiliate links. Yes, they still made money, but they weren't collecting any revenue. In other words, these Aussies sites had given up on the NZ market.
The problems with the overseas deals were many. From missing shipments to crappy customer service it was a shit-storm. But the overarching concept is that overseas deals are usually crap.
When you have a local deals sites, they know the local market and they partner with well known kiwi businesses. For customers, the deals are appealing because they probably already buy services from the merchants. When you have overseas businesses and websites offering deals, they aren't known to kiwis, so no one buys.
Secondly if these overseas online products are crappy (which they were on Spreets and Cudo) then no one buys anything. These two sites died a fast death after introducing overseas online deals.
(Spreets has been revived lately by becoming part of the Daily Do group of deals sites. They no longer have many overseas deals, they have local deals which is a positive).
A big problem with overseas online deals is that the deal site is not collecting the money, so they have very little control over the sale process. When delays and missing packages happen, they can't really do anything. And the website name gets a bad rep by association.
So that is the background behind why overseas online deals are crap. To see GrabOne now partaking in this area is strange. Surely they haven't given up like those Aussie sites did? I don't think that is the case.
Sure their growth rate will have dropped significantly with the drop in popularity of daily deal sites, but they do still have a solid business with good revenues from what I can see.
GrabOne's previous tagline for Free Coupons was: Offers from your favourite brands, all in one place. Nice!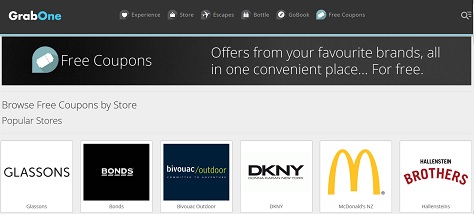 That has been replaced with random offers from international websites. A shame. The selection of local stuff is way down the page, and very limited. The tagline has been replaced with instructions on how to get promo codes.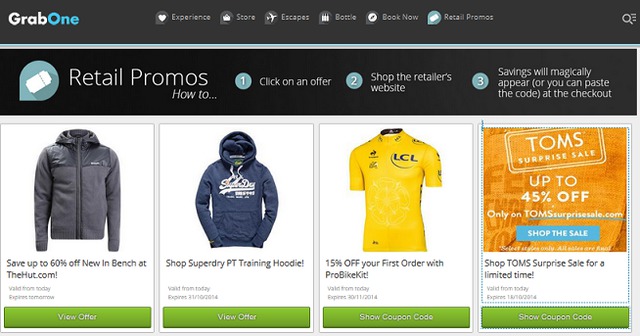 The overseas online deals concept is tempting. It's money for no effort - just put these deals up and collect commissions. But the customer always dictates successful companies, and these products are just not appealing to most customers.
I suspect these Retail Promos won't be around for long. I think the free coupons idea was good. Perhaps it was too good, and they realised they were losing money, and they needed to get commissions on the sales they were sending through.
Businesses are of course entitled to try new things and try to gain customers in anyway they can. But the success of overseas deals offered through NZ deals sites hasn't had a good track record so far. Still if anyone can do it well it's GrabOne.
http://freecoupons.grabone.co.nz/