Well there was a bit of a kerfuffle this morning. 1day was supposed to be running their new Grocery Grab supermarket deals today. 1day is entering the grocery market and taking on the big supermarkets. Today would have been the second running of the Grocery Grab, the first one being a fortnight ago on the 16th April.
After going on 1day's official press release announcing Grocery Grab, I wrote an email this morning that was set to go out to all OneDayDeals site members reminding them of Grocery Grab today. I sent the email out to a LOT of people at 11.55am, just before midday, as the email takes a few minutes to be sent out to everyone.
Then at midday I went to check 1day, to see for myself todays Grocery deals, and Grocery Grab is nowhere to be seen! All I could see was "Bag a Bargain" which seems to be a new kind of promotion 1day is running today. At this point it was too late to stop the email going out to the list!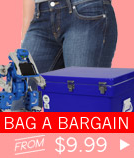 Todays replacement promotion
So very annoying on my part, but more annoying that our members will be reading the email, and clicking thru to see that Grocery Grab isn't even on. This brings to mind the word "FAIL".
So while 'I' sent the email, I am portioning part of this fail to 1day :) Sure, it's the perogative of a business to choose what to do on a daily basis. They didn't have to put the Grocery Grab on today. And sure, I could have waited till midday before sending the email out, to see whether it was indeed on. But you put a certain amount of trust in an official press release, which said every second Monday from 16th April!
So I raced to get hold of 1day to see what the 'deal' was. I managed to speak to Hayleigh on Live chat to get a fast answer. She emailed me 10 minutes later with the reason why Grocery Grab wasn't on, on the scheduled day.
Hi OneDayDeals,

Thank you for contacting us, I can confirm I have since been informed, the grocery was not scheduled today due to other business commitments in regards to it being the end of the month. This will be running tomorrow.
If you have any further questions please feel free to contact us.
Kind regards

Hayleigh
1day
So there we have it from the horses mouth. Grocery Grab will be on tomorrow (Tuesday) 1st May. My first reaction was that the first grocery grab didn't go well and they were scrapping the whole idea.
Its good that all your deal hunters will still be able to get all the supermarket grocery deals you are after (tomorrow). But annoying that the consistency is not yet here for this great idea. Its hard enough to remember Grocery Grab is every fortnight on a Monday, then when it changes to a Tuesday randomly it causes confusion.
On my part I will probably think twice about sending an email out with out definite details. Apologies for bothering everyone on the list unnecessarily. And for 1day, I think sticking to press release details will be a good idea in future :)
Antics aside, Grocery Grab is going to be a big thing in NZ online retailing. Once it goes from fortnightly to weekly, it will grow and grow. As I've said previously, the products on offer are well known brands so there's a good chance you'll be able to get a quarter of your weekly shopping through 1day each week. Thats a great way to save some coin!