Groupon, the company that you go to to get a bargain, recently offered a a very unusual deal. A very rare brown Topaz Gem was offered on the US site for a price of $1m. The deal wasn't a joke like some of their deals have been.

The Gem is real and was certified by the Gemological Institute of America. It features 9,377 carats of Topaz, "brilliantly cut in a modified octagonal shape". It has been labelled "a "one-of-a-kind find for collectors." The stone is transparent and brown, which in the light, gets an orange cast. Whatever that means. Sounds impressive though.

It of course seems very odd to be offering a deal of this value. As we know deal hunters normally like to spend as little as possible. Most people wouldn't have spent more than $99 on a deal site. But the Gem was actually a good deal, with similar gems going for 3-5 million dollars.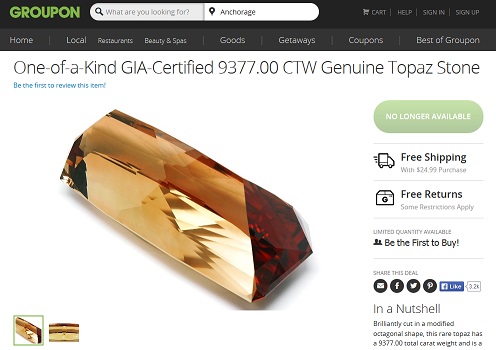 After emailing the deal to thousands of people, the gem deal soon said SOLD OUT. But it turns out the supposed buyer pulled out. Groupon wasn't accepting credit cards for the deal (who has a $1m limit anyway) instead they would phone the buyer to verify and organise payment. No word on whether the deal actually did sell in the end.

So why would Groupon offer such an expensive deal? Well obviously there was likely to be a nice commission on the sale. However I don't think they'd get their usual 20-25%. 20% off a $6 donut is $1.20, but 20% off a gem like this would be $200,000. I'm sure they arranged a lower commission.

But the main reason for offering such an outrageous deal is for publicity. I mean, we are discussing it right now, and giving Groupon the time of day. This type of deal is viral, and it dosen't matter whether they sold it or not, the publicity generated was worth it.

You'll be pleased to know the Gem came with free shipping, although I'm not sure you'd want it shipped necessarily. Perhaps a first class flight to pick it up wouldn't be out of your reach if you've just bought a $1m gem. We can only dream.
You can view the original deal here: http://www.groupon.com/deals/gg-one-of-a-kind-gia-certified-9377-ctw-topaz-stone