Yes, the world leader in group buying has launched in New Zealand. Groupon NZ can be found at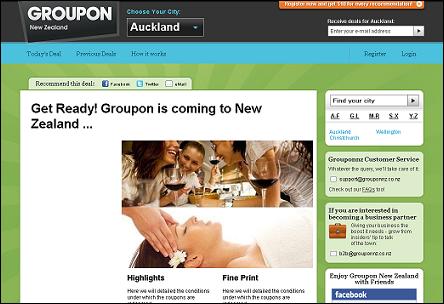 It seems another Aussie competitor has stolen the domain Groupon.co.nz, so for now we'll have to add the "NZ" to the domain name.
Now that Groupon has launched this more or less ends the expansion of the big boys into the NZ market. We've had most of the major Aussie sites launch here, and the market is becoming bombarded with offers!
Groupon Background
Groupon was the original group buying site who more or less started this whole group buying craze. They are the No1 site worldwide and offer deals in over 500 cities. As with most fast growing companies, they focused on their home market of USA. This left NZ entrepreneurs with a gap to fill. Hence the domininance of GrabOne in New Zealand selling almost 1 million deals in 10 months.
Groupon recently launched in Australia under the trading name of StarDeals.com.au. Groupon is in a legal battle with the company who owns Groupon.com.au. Rather than wait to win the battle in Australia it opted to go ahead and launch under StarDeals.
But now Groupon NZ is here check them out: Groupon Deals
Trust One Day Deals to keep you up to date with NZ daily deal sites.