Yep, it's true! I don't know how I missed this one, but back in March 2012, Groupon USA offered a very unique daily deal. It wasn't really a deal, but rather a once in a lifetime experience to go down on a submarine, to view the ACTUAL Titanic.
Just like in the movie, you could travel down, down, down to the bottom of the ocean and see the mighty Titanic for yourself. Included is a 13 Day Ocean Voyage including airfares and transfers in the US. The only catch? The price tag, the deal was priced at $12,500 USD.
Oh, and you had to decide right away, as there is only one ticket for this trip available. Groupon offered just one chance worldwide for this deal to take place. The ultimate in deal scarcity.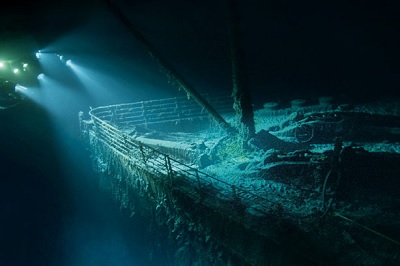 Now obviously, some deep pocketed person bought the deal and got to do it. But would you? The risks are obvious, when you dive down 2 MILES, there is so much water pressure. If that little submersible leaked, it would implode and crush you to seaweed :)
Still, of course you would do it. It's a once in a lifetime experience, or should that be a once in a million peoples lifetimes experience. Only a few hundred people have ever seen the wreck first hand.
And it's that once in a lifetime, unique offering that Groupon is trying to do more of. They are planning to offer more of these types of remarkable deals. Deals that are very hard to just go out and buy. They don't want to offer them daily, but as an occasional offering to wow customers.
Even if most people wouldn't buy the Titanic deal, it still gets people wondering about if they had the money, whether they would buy the deal. It's a real watercooler topic, and something that would get shared around online.
In a word, it gets Groupon some some great publicity. The more insane the deal, the more people will talk about it, and in turn Groupon.
Maybe NZ deal sites should consider creating some deals like this. How about dangling from the bottom of a helicopter and flying to the top of Mt Cook...
You can see the original deal here: http://www.groupon.com/pages/titanic