If you've got little ones around the house, then there is a new website which is sure to come in handy!
KidzGrab.co.nz is a daily deals site with products and services for kids, babies, their parents and grandparents! Each day a new deal is featured on the beautifully designed website.
The variety of deals is pretty amazing. KidzGrab feature products and fun experiences which is pretty unique for a deals site. You'll discover clothing, toys, tickets to kids shows, adorable books, photo shoots for baby, the list goes on :)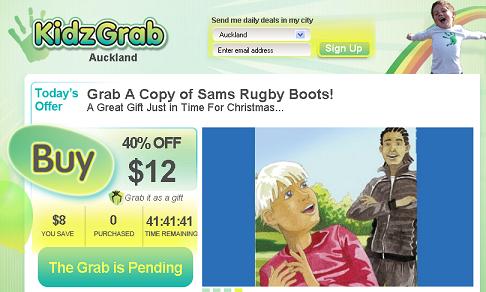 KidzGrab is a new site, launched recently by Kiwi Mum, Kate Armon. With two children under five, she knows first-hand how challenging it can be raising a family. She aims to have affordable deals, and many that have a focus on keeping kids active, so there will be many activity-related and deals for outings.
Kate has comitted fully to the business and hired some of the best web developers in the business. The developers of Jump On It, one of Australias top daily deals sites are behind the fun and colourful site, but with a grunty backend to handle popular deals, such as selling 3,000 tickets recently for the Polkadots Christmas Extravaganza Show.
The best thing is that buying on KidzGrab won't break the bank! They regularly feature deals for under $10, and most deals are under $40. Grabbing a deal is a great way to put a smile on your childs face!
Christmas is just around the corner. Have you got those presents sorted for the kids? What about grandchildren, and nieces and nephews? KidzGrab will give you plenty of ideas for stocking fillers!
Here is an easy way to get your Xmas shopping sorted, without heading to the mall! Register for the KidzGrab Daily email alert. You'll receive a quick email each day, letting you know about the new deal for the day. Have a quick check of the deal, and see if it would suit. theres no going to the toy section and wondering...just check your email for great gift ideas!
Register here for the KidzGrab Deals email: https://www.kidzgrab.co.nz/subscribe/
With the malls so packed these days, shopping online is a great way to avoid all the stress of parking, and battling the crowds. Keep life simple, and keep the little ones happy!
Check out KidzGrab.co.nz