It had to happen. A deals site where the deals change throughout the day. Knucklebone.co.nz offers constantly changing deals all trhough the day. Surprisingly, it has been launched by 1day.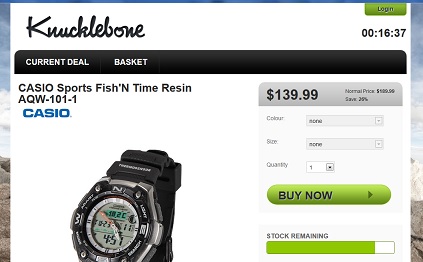 1day's famous crap sales are the main basis for this new site. While a little less common now, 1day used to offer continuous crap sales about once a month. They would try to clear leftover stock from the 90 deals they had offered during the previous month.
The gimmick for their crap sales was that every 20 minutes the products shown would change. The quantities available were very small so you had to be quick to grab the best stuff. And you had to keep checking the site throughout the day.
So Knucklebone is trying this concept full time. No once a month sales, a new product every 20 minutes, every day. Only 1day can offer this amount of variety in deals. The deals are adventure and outdoor type products. So snoboarding, fishing, cycling, pretty much any product you might use outdoors, they'll be offering.
Check it out at: Knucklebone.co.nz