Living Social NZ has launched Living Social Escapes. Tailored for Kiwis, the site offers up to 8 travel deals, which are active Monday to Sunday. I must say they are offering a nice selection today, with most deals being local NZ escapes. Today has Bay of Islands, Queenstown, Wanaka, Auckland, Milford Sound and Thames. Living Social Escapes also offers international deals including classic kiwi favourites such as Gold Coast and Thailand.
Travel Deals are a natural progression for the daily deals industry. Selling cheap $5 meal deals, while popular, dosen't generate much margin for daily deals sites. Travel and Holiday deals are usually bigger ticket purchases in the hundreds or thousands of dollars. The higher the price, the more commission a daily deal site receives.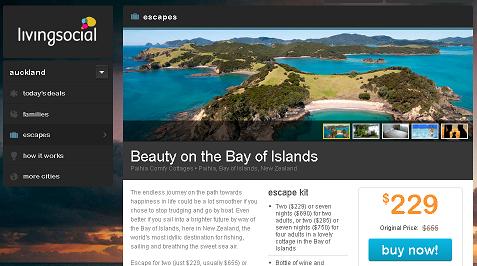 Overseas, world leading deal sites Groupon and Living Social both offer separate holiday and travel deal pages alongside all of their main deal sites. So daily travel deals are pretty commonplace overseas. In New Zealand, GrabOne launched GrabOne escapes last year, and Groupon has been running a NZ travel deals page for a while. Not to mention Cudo NZ who seem to run holiday deals to Thailand as a permanent fixture.

Travel Deals are well suited to being sold online, as holiday packages are usually impulse purchases. The big ticket nature of holidays means that there is room for discounts to be taken out. Credit cards can also be used to purchase travel deals, furthering the temptation for consumers. For those that like to research their holidays and accommodation, you are on the internet anyways so you can easily search TripAdvisor or similar travel sites for reviews on the accommodation on offer.
Going by the current sales showing on the site, Living Social's new travel site is going well. Bay of Islands has 24 deals sold at $229, Gold Coast 4 sold at $519, Queenstown has 6 sold at $599 each etc, etc - and its only Tuesday morning, deals are still live til Sunday!
LivingSocial Escapes for all NZers can be found at the links below. Both pages show the same deals, so it dosen't matter which url is used.

http://www.livingsocial.com/cities/62-auckland/escapes