It seems business directory site Localist is getting into e-Commerce. Last week I received an email from Localist expecting it to be something about "Check out this local sushi store" or something like that. But no, it was an email with products in it, inviting me to "Shop Now".

I wrongly assumed they would now be doing daily deals. Every man and his company are doing daily deals these days, and NZ Post-owned Localist is one of the larger media companies not already doing daily deals. However, the new initiative is called Localist Store, which doesn't sell daily deals.
Localist are following the online trend for information/service websites to get into e-commerce as another income stream. While it's good that Localist are trying new ideas, I'm not sure if sending me emails about buying products is what I signed up for in the beginning, with Localist being a business directory.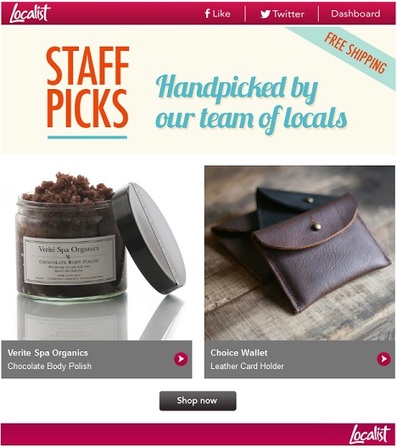 So after the annoyance of basically being spammed (sent unsolicited promotional email) with "products for sale" by a business directory, I decided to see what 'great deals' must surely be on offer from this large corporate. I wasn't very impressed. In fact, I had the thought of "Why the hell would they email me this, it's not even good".

The products on offer are expensive, "artsy" products that have been randomly selected, from local stores. The products are billed as "Local Discoveries". I fear that these 'local discoveries' are all made in china. The second problem is that the products aren't even discounted or some special deal, they are just 'for sale'. Come on, at least inflate the price and then discount it, so it looks like a deal!

So like any self-respecting web user, I clicked the unsubscribe button on the email which takes me to a page where I have to uncheck boxes to stop getting 'Localist Store' emails. Again, I'm not sure I signed up to receive product emails from a business directory. It seems that if you have ever signed up to their service to post a review on a business, or register a business that you are on their "products mailing list. So I had to 'uncheck' a box that I had never checked in the first place.

My pet peeve with companies is wanting to unsubscribe from their emails and there being no one-click 'instant unsubscribe' button on the email. They make you "log in" to your account...that you can't remember the login details for because you signed up a year ago! My other pet peeve is seeing that I have been auto-subscribed to 3 different Localist promotional lists. These two things are my pet peeves with companies doing email marketing and Localist have failed here twice! Needless to say I wasn't very happy, but I internalised my rage and looked out the window to a bird singing sweetly. Breathe!

So we come back to the main point of the article: Localist selling products. "We're on a mission to bring you amazing discoveries every day, with a handpicked selection of inspiring products from local creators and curators" Also, "We take care of the tricky bits, accepting credit cards and organising logistics (even photographing your goods)." So it's obvious now, that they are selling on behalf of local stores. I guess that's good, and fits in with their 'local' ethos.

The problem is that the products are mostly expensive designer stuff. I'm not sure people will be rushing to a business directory to buy products. Separate website anyone? The obvious LocalistStore.co.nz doesn't seem to work.

So anyway, everyone who reads this now knows that Localist are selling products. It's the launch of 'another' online store, of which dozens launch everyday in NZ. From the look of it, the unique angle is that products are sold by local stores, or are made in NZ (hardly any).
The other message is that spam (unsolicited promotional emails) work. They 'mailed me' about their new products offering, and now I have told all of you. Quite smart actually.

Have a look and see if it appeals to you: http://www.localist.co.nz/store/
Also found their 'Exclusive Deals' section: http://www.localist.co.nz/auckland/offers (Which may appeal to you bargain hunters out there)

P.S. Localist, put a proper, one-click unsubscribe link on your emails. I hate that.