Last week, Meh.com launched. The name itself Meh, conjures up all sorts of ideas, but what is it exactly? Meh is a US-based daily deal site that harks back to the good old days when a daily deal site was just that - a daily deal site.

Meh.com offers just one deal per day. Yep, just one deal. It's a daily DEAL site. Funny that. There are no side deals, no pages of deals. Just one single deal for the day.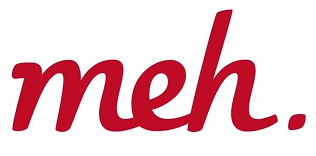 Meh was started by the guys who started the world's first deal site, Woot.com. To cut a long story short, Woot became massive (still is) and was sold to Amazon.com.

The original founders have now, several years later, gone back to the very business model they created. Reports are that the founder Matt Rutledge left his contract early (after selling Woot) as he became disillusioned with running the site.
Amazon wanted to sell more, more, more but he felt the things that made the site cool at the beginning (the funny product write ups, the simplicity, the focus on one deal) were being overshadowed by the massive profit motive.
Rutledge felt pretty 'meh' about the whole exercise. So here he is 10 years later, launching the same site, in I would say an even quirkier way. Their product descriptions are worth reading each day. They are funny, quirky, brutally honest and sometimes so insane to see published on a site that it trying to sell you the thing.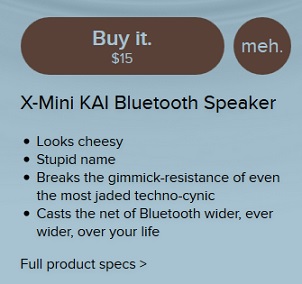 One interesting point about Meh.com is that they are doing no social media marketing. The site has no Twitter, no Facebook, no daily email, no bombarding you with deals. This is another example of going against the norm.
Their approach is that a good site will grow through word of mouth. People don't need to be bombarded with marketing. People don't need more businesses clogging up your news feed. People say 'meh' to news feed spam.

So the question can be asked: Will someone in New Zealand start a site like Meh, and keep things simple with one deal per day?

There of course already is the NZ site called Dealaday.co.nz. This site indeed started offering one deal per day. Since 2008 they did in fact only have one deal per day. But a year or two back they increased this to 6 deals per day.

Which is cool, because you can potentially make 6 times more money. But when deals sites add more deals to their homepage, they start to become shopping sites. The clutter on most "deal sites" these days, takes away the focus from 1-3 products. They may as well just put their entire catalogue up on the site - and many do.

I do agree with the Meh founders that one deal is really compelling. Pair that with funny write ups, a new daily video, and general quirkiness, it's a model that can be fun and a site you actually want to check out. I know I have been checking Meh.com every day. I can't even order, yet I still find myself checking it.

To be honest, I like the simple approach. There is no getting lost in the site for ages, you just log on, check the deal for 1 minute then leave. You don't feel guilty for checking it at work. You can check it on your phone quickly during a meeting. And if you don't like the deal on offer, then you can click the Meh button - another stroke of genius.

And with an easy to remember name like Meh.com, I haven't needed a daily email from them. Somehow I just seem to remember to check it.

Will we see a local player take this concept and run with it? I think there certainly is space for it. Daily deal sites have become stale. There is no excitement at the moment, someone needs to come and make things fun!