ModernDeal.co.nz is a daily deal product site that you may not have checked out before. Based in Dunedin, they've been running about 6 months now and are keen to get the word out about what they do!

Each day at 12pm, they feature 3 deals at a heavily discounted price. The products on offer are totally varied! From electronics to toys, computer accessories, things for the home there's no telling what deals will come up next.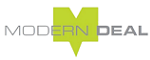 One of the things I've noticed about ModernDeal is that most of the deals are under $20. Sure, they have many products at higher values, but most of their daily deals are in this nice, affordable price range. So whether the deals are for yourself, or for a gift, you'll be happy with the price!

The great thing about ModernDeal.co.nz is that they don't just have 3 products available. As well as their 3 daily deals, you can access their full online catalogue of products. ModernDeal has simply hundreds and hundreds of products avaialble to purchase online. So if you are on the lookout for a specific item, any item, then do a search on their site and your sure to find a price that will be very tempting!

As well as buying online, if you are based in Dunedin you can visit their showroom at 5 Turakina Road, South Dunedin. How many daily deals websites, can you actually go and visit their physical location? But if you're not in Dunedin, of course you can order online and receive your purchase in just a few days by courier.
While there are many daily deal product sites out there these days, we say have a mosy over at ModernDeal.co.nz and see what they have available. They have quite a selection of products, and some exciting daily deals, so make sure you add them to your daily list of sites to check!