OneDayDeals has now been running for just over 5 years. It's a good time for a giveaway, so get involved! Enter the competition here: http://woobox.com/s27qcq
Happy 5th Birthday to OneDayDeals!
Wow, I can't believe it has been 5 years, well 5 years and a few months. The very first OneDayDeals post was written on Friday 22 Aug 2008. Back then there were only 3 daily deals sites, so I used to check them each day then write a review on the deals on offer. I would talk about how good the prices were, whether the products were worth buying etc.
OneDayDeals in 2008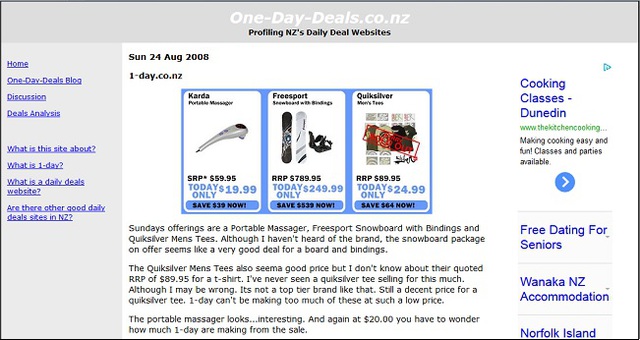 I did these deal reviews everyday for about 4 months. In that time, more daily deal sites started to pop up. Frankly it became hard to keep up with reviewing all the deals, from all the sites, each day. So eventually I stopped doing daily reviews, and I was glad I did because 2009 saw dozens of new sites pop up. It simply would have been impossible to review every product like I was doing.
See the first posts, and the first version of the site: www.onedaydeals.co.nz/index112.html
So the blog changed more to a list of links to all the sites that were popping up. Keeping the list updated and watching for new sites was a job in itself! OneDayDeals became a hub where you could come to see the list of deals sites, and then click away to check the various deals.

New sites were continued to pop up every week. I'm sure people found the list of sites a useful resource, and found it interesting to see what new sites had launched that week. I was still keen to write about deals, so instead of reviewing deals, I switched to covering the news in the daily deals industry. The industry was growing so fast, and it was so fascinating to see all these new sites pop up.

So that has been the model for the last 4 years. Cover news in the industry and provide a comprehensive list of links to deals sites. I've written 238 articles to date. Roughly one article each week discussing what's happening in the New Zealand daily deals industry. The have been ups and downs, impressive growth, and lots of failed sites.
OneDayDeals in 2013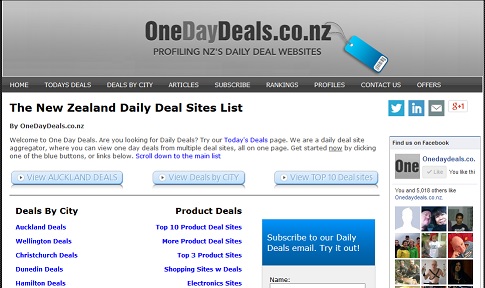 The site has had millions of visitors over the years. Thousands still use the site each day to see what deals are on offer from around 60 kiwi deals sites. So I am calling it 5 years and I'm running a competition to celebrate.
You can enter here: http://woobox.com/s27qcq
Note: GrabOne is not a sponsor of this competition.