Local appliance and homewares website ProductSaver.co.nz has been operating for a couple of years now. Part of the CCD group, Product Saver is a sister company of the popular grocery site SupermarketSaver.co.nz. After the success of SupermarketSaver's daily deals page, ProductSaver has followed suit and now offer daily deals on everyday household items and appliances.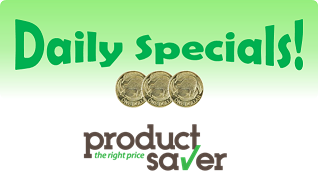 Discounts are all part of a day's work with these guys. I mean, an iron for $16.99, a deepfryer for $58.99! Their normal prices are heavily discounted, but now there is even more opportunity to grab a bargain each day. Some of the brands they stock include Casio, Tefal, Panasonic, Tomy, Nerf, Seiko, Gasmate and Sunbeam.

Their range is pretty extensive evident and they cover all categories for the home from Outdoor Furniture, to Electronics to Toys. For the man of the house there are some you'll even find some surprises like safes, boxing wraps and even an electric chainsaw sharpener. It's not just small items either: Inflatable Pools, Trampolines, Treadmills, Desks and Office Chairs. Basically anything you need for the house, ProductSaver is likely to have it.

As with all daily deals sites, if today's deals don't appeal, then check back tomorrow. The great thing about ProductSaver over other daily deals sites is that they are also an e-commerce site offering their full catalogue for your online shopping pleasure. So with daily deals, and their full catalogue online there will always be something interesting to look at with ProductSaver.
Check them out daily at ProductSaver.co.nz/daily-specials/