This morning The Warehouse launched their own daily deals site called RedAlert.co.nz. Their launch day specials are pretty impressive with cheap MAC makeup, $49 Converse Chuck Taylors and Apple MAC Books, $300 off RRP.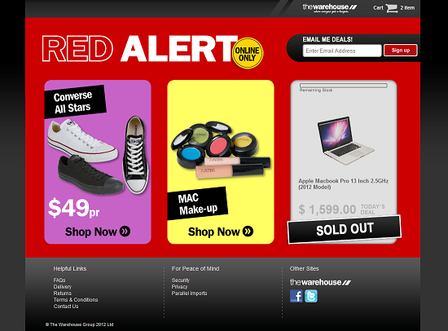 Taking a 1day style design approach, the site looks clean and easy to use. It looks as though the site will turn deals over at 10am each day. This is a good move in terms of differentiating away from midday as per 1day.
The Warehouse is on a mission to be New Zealand's largest online retailer. Close to 90% of their products in store, are now available online. Online sales are growing at 60% each year according to a Stuff article.
Red Alert in addition to growing their sales, will be a good way to introduce people to TheWarehouse.co.nz website for "non-impulse" purchases. Going to RedAlert.co.nz actually forwards you to http://www.thewarehouse.co.nz/red/redalert which shows that this is indeed the strategy. The RedAlert site may function simply as a loss leader, driving people to the main Warehouse website for everyday purchases.
RedAlert has certainly shown today that they are here to shake things up. This site will be one to watch, and surprisingly is the first NZ retailer to actually have a daily deals site! The Warehouse have the buying power to be able to do some pretty amazing parallel import deals. A long time coming, NZ consumers will be delighted with the daily dose of brand name deals.
Check out the site at RedAlert.co.nz