Yes, it seems local deal website Spreets.co.nz is selling the very latest Apple iPhone 3GS. By latest I mean released in 2009. For just $99 you can be the owner of a "B-Grade, ex-lease phone". But that's not all. "Please note this phone does not come with a wall charger, a USB charging cable is included"
If you really want a wall charger then you'll have plenty of time to find one, with delivery taking 2 weeks. Sounds like the deal of the century.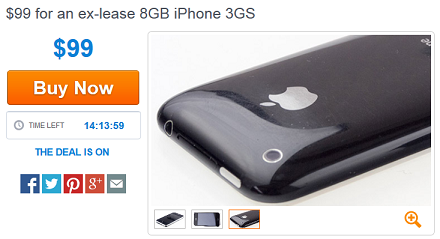 Look at those curves!
The phone has been factory refurbished (whatever that means), although according to the listing it will likely have minor scratches on the body. You'd expect that from a 4-5 year old, second/third/fourth hand phone right :)
I didn't think these things would even still work. According to pcadvisor.co.uk the more recent iPhone 4's can't update to iOS8, so with an even older 3GS, you'll be on iOS6. That means a limited selection of apps. No Facebook, No twitter as they have just pulled support for iOS6 apps.
But if you are simply wanting to make calls on the phone (that's the point right), then you'll be fine. But why not spend the $99 and get a brand new smartphone from one of the lesser brands. You can get a fully functioning Android smartphone for that price.

You've gotta love the spin they put in the description:
So you've discovered polyphonic ringtones and a 20 txt inbox capacity isn't so stellar anymore? It's time to get acquainted with the iPhone 3GS with today's top deal!
Don't we all remember the day, upgrading from the 20 Text Inbox Capacity. Now you can relive that moment like it's 2003.
Ditch the brick and grab an ex-lease 8GB iPhone for a tiny $99
Brick phones were outlawed back in 1998, so if you still have one, you are likely in jail!
Put pull-up aerials and multi-character buttons in the past and snap up this savvy deal today!
Actually, this sounds like my dad...click click click. Keytones anyone?
Surf the web, txt your friends, update your status, tweet, catch up on the news, take pictures and call your buddies
With terms like "Surf the web", and the old school spelling of "Txt" this ad is certainly appealing to the 2 people in NZ who still use multi character button phones. Why not give this as a gift to your worst enemy. It might give them a laugh.
Unfortunately they haven't mentioned the weight of the iPhone 3GS which is a bit misleading. If people knew this phone was 3.6kgs, they might buy something else.
Daily deal sites sell some weird and wacky things, but this takes the cake I reckon. You'd be better off with $99 in your pocket and avoiding looking like some guy from last decade.
If you are still keen check it out here: