It looks like daily deals Spreets.co.nz is back after a long absense. The last time we heard from Spreets was in April 2012 (about 18 months ago). We published an article at that time call What's happening with Spreets?
For about 6 months prior to their closure they started promoting low quality online deals such as china made watches, and expensive custom made shirt deals. Spreets stopped offering local NZ deals like restaurants and things to do. Their online deals were all to do with products being sold by overseas websites - not very inspiring for consumers.

Spreets eventually gave up on the NZ market. This was weird because they had some form of partnership with Yahoo Email, so you'd think they could have made something work. But they continued with boring online deals that few people desired, and people didn't want to risk redeeming their deals with unknown overseas websites.
But last week new Spreets daily emails starting coming in. They announced they were re-launching and if you were still on their list you no doubt would have heard from them by now. To tell you the truth, I never thought they would be back. Daily deals aren't as popular as they boom days, and a large portion of sites have shut down. It's likely a new outfit has taken over Spreets.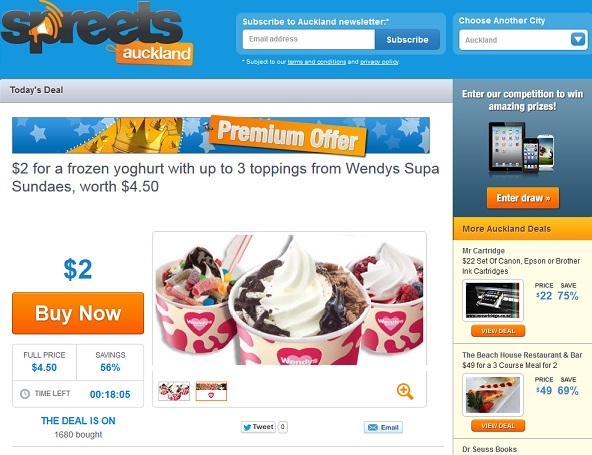 When they launched in 2010, Spreets were the NZ daily deals site offering the best deals. They regularly ran $1 food deals such as $1 Nandos Burgers, $1 Beers, and $1 Burgers - A full list is here. Yesterday they ran an offer that was reminiscent of their early days of dollar deals. Yesterdays deal was a $2 Wendys Icecream voucher!
While not a $1 deal, it was a nice welcome back gift. I hope you managed to pick one up. I noticed just before midnight when the deal ended, but managed to get 4. They seemed to sell well, with over 1600 sold by midnight. People love dollar deals, so let's hope there are more in the pipeline!