The Spreets.co.nz site has had a design makeover recently and they've done extremely well.
The new design has more of a squarish look, doing away with the very rounded edges of the previous design. It seemed rounded edges were the 'in thing' in daily deals site design as most sites copy the Groupon format. It's a welcome change, and I really like Spreets new direction.
The layout and pricing display has changed to show everything clearly. The price of the deal is unmistakable. It's there in large font on a white background – no contained in a box. Spreets previous design had the price and the saving amount right next to each other in a box, so sometimes it was hard to see what the actual price is.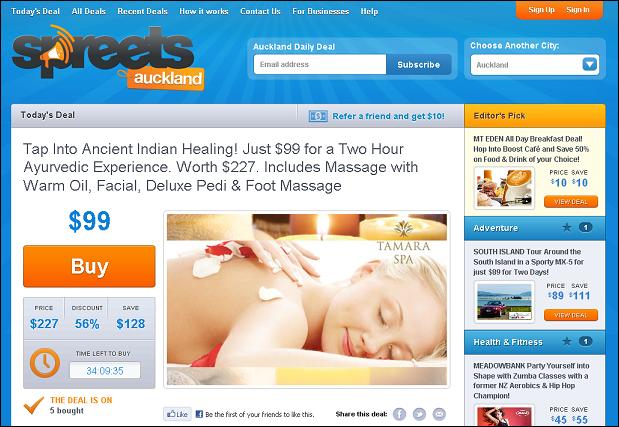 There is now a big orange BUY button. There's no mistaking that, and it stands out on the page. The title of the deal is also now in a smaller font. You'd think this would be a bad thing, but its not. A lot of the group buying site have long winded titles such as today's:
"Tap Into Ancient Indian Healing! Just $99 for a Two Hour Ayurvedic Experience. Worth $227. Includes Massage with Warm Oil, Facial, Deluxe Pedi & Foot Massage."
These are hard to read on other sites, when the font is big. Spreets reduced font size gets a thumbs up. Also Spreets new desing makes great use of white space. I love the new design of this site. Some other deals sites leave a lot to be desired. On Thursday we'll be reviewing a deals site design that needs improving.
In the meantime check out the new Spreets design for yourself at Spreets.co.nz