After the recent announcement that Aussie daily deals site Cudo has effectively given up on the NZ market, it seems another Aussie site might be headed the same way. Spreets is one of the top daily deals sites in Australia and they opened the Spreets NZ site in late 2010.
Things were going brilliantly it seemed, for over a year. They were the deal site that likely offered the most $1 deals out of all the sites, and even sold 17,000 Oporto burgers on one day. But early 2012 started to bring a lack in focus for the Spreets NZ site. Deals stopped being localised, and started being online-only deals. There have been extended periods where there have been no deals on the site at all.
No city specific deals have prompted speculation that they might have given up on the NZ market. It certainly seems like there is no local sales force, as with the Cudo situation. Also of note was the addition of the Yahoo New Zealand logo which first appeared on the top bar of the Spreets NZ site around January of this year. Unconfirmed rumours are that Yahoo NZ has taken control of the Spreets site, which makes sense having their logo there.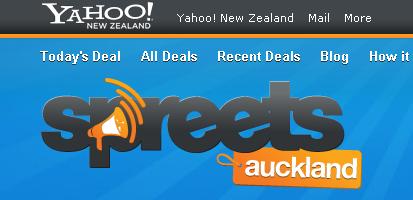 Around the same time as the Yahoo NZ logo appeared on the Spreets site there was a reduction in the number of local deals that Spreets was offering. Ie, the Spreets NZ site hasn't been very popular so far in 2012 due to not offering local city deals. We are not sure what is happening behind the scenes.
To add insult to injury, customer queries have gone unanswered on the Spreets New Zealand facebook page leading many to speculate that Spreets have totally given up on the New Zealand market. Why else would customer service emails and facebook comments not be addressed?
Over in Australia, it is rumoured that Yahoo7, who owns Spreets Australia will stop business performance payments to the company. According to many sources, the growth of the daily deals market is slowing in Australia. It may also be the case in New Zealand. However it seems that Spreets Australian sites are still extremely popular with a wide range of deals, with many local city deals.
It would be great if Spreets NZ would give an announcement (either thru the media, their site, or their facebook page) as to what their future direction is. From where we're sitting it looks as though it will simply offer online deals from now on, no city specific deals like restaurants or experiences.
The thing is, customers will simply go elsewhere if deals aren't interesting or relevant to them, which is what seems to be happening. It seems strange that with all the investment Spreets has made in NZ, they are letting their NZ fanbase wither away without a concrete announcement on whats happening.
It seems a waste, but they have to act fast before permanent damage is done to the Spreets brand from a customer service perspective. If they plan to simply offer online deals it would be great if they would clarify this to the market. It will be interesting to see what Yahoo NZ does with the site.
So why might Spreets NZ have given up growing the business further? There is the fact that New Zealand is a way smaller market than Australia, and it is becoming pretty saturated by deals sites. With GrabOne having a 65% market share, this doesn't leave much on the table for the other group buying sites.
Fitting in that 35% is TreatMe (TradeMe's group buying site) and Groupon. If TreatMe has 15% and Groupon has 5%, Yazoom has 5% of the NZ group buying market, that leaves 10% for half a dozen remaining sites to fight over. It hardly seems worth the trouble. Remember that 1day closed their site 1DayOut last year, as they could forsee issues in the group buying market, with the increased competition.
There are only a certain number of sites that can exist in the long term. The most likely reason is that Spreets NZ may not have been getting an acceptable return on their investment, in which case it would make total sense. But I think addressing customers queries on Facebook would go along way to keeping the faith.
If Spreets NZ plan only to offer online deals, then I think they need to let their customers know that they won't be offering local deals going forward. If they market that they will be focusing on providing amazing online offers (and they get some good variety and crazy prices) then I think that could be an interesting niche. It will be interesting to see what happens with the site.