This article is the first in a 3-part series discussing NZ's top daily deal sites.
---
The great part about the daily deals market is the fact that sales figures are publicly displayed. Shane Bradley from GrabOne also has his team doing daily research to keep tallies on all deals sites. We've used some of his data from May 2011, to make our site rankings for October 2011.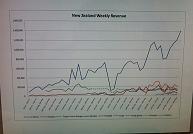 Below we rank each site based on sales and popularity. We also have a daily deals site rankings page, but that is based on the level of Facebook membership each site has. Still it makes for interesting reading.
Voucher Sites Ranking by Overall Sales
| | | |
| --- | --- | --- |
| Pos | Site | Ranking based on |
| 1. | GrabOne | Launched Jul 2010. $97,202,000 (Oct 2011) |
| 2. | TreatMe | Launched Mar 2011. $12,294,000 (Oct 2011) |
| 3. | Yazoom | Launched Apr 2011. $ 7,920,000(Oct 2011) |
| 4. | Groupy | Launched Jun 2010. Marketing thru Yellow Pages network of websites |
| 5. | Spreets | Launched Nov 2010. Popular site, and 5th NZ site to launch |
| 6. | Groupon | Launched May 2011. Strong Online marketing spend |
| 7. | Living Social | Launched Apr 2011. Collecting email addresses for year before launch |
| 8. | Cudo | Launched Apr 2011. TV & Radio marketing. Picking up in past 2 months |
| 9. | Daily Do | Launched Dec 2009. Sales figures N/A. Less presence than Cudo |
Note: Sales Date from 4 Oct 2011. Excludes 1Day Out who closed down.

The first 3 sites display their data on their respective homepages. With the rest of the sites, its unclear exactly which order they come in. They don't publicly display their sales figures. Many sites are neck-in-neck with each other too.
These rankings are based on Shane Bradley's data from May (GrabOne CEO) http://yfrog.com/h4qg0knj. (Tip: Click the Zoom button to see more image clearly.) Granted, May was 4-5 months ago though, things may have changed. For instance, in May Yazoom had just launched and were around 5th place. They are now clearly 3rd.
These rankings of the remaining sites are based on several other factors: Time since launch, perceived popularity, facebook membership and our experience of watching the NZ daily deals market since 2008.
Perspective for the NZ Daily Deals Market

GrabOne is the clear leader in the NZ daily deals race. GrabOne is 8 times larger than its nearest competitor TreatMe in terms of sales, and 6 times larger in terms of vouchers sold. Thats a massive margin. And if TreatMe (TradeMe) can't close that margin, no one ever will. The first mover avantage is in effect here for TreatMe (TradeMe). Just as TradeMe used the first mover advantage against eBay in the 2000's.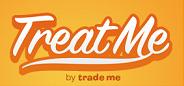 Still, daily deals are different than the online auctions market. Auction sites require a critical mass of people. But even the smallest deal sites can still post deals up, without having a massive database. In the NZ daily deals market, the number 2 position still makes a lot of revenue. Not a bad position at all.
Next Article in the series:
The Big Guns (2): Voucher Deal Site Marketing Strategies
---