Launching last week, GrabOne is now offering weekly grocery deals through GrabOneStore.co.nz. The weekly sale is called "The Grocery Run" and runs every Sunday, Monday and Tuesday.
Interestingly, The Grocery Run is in partnership with another deals site, SupermarketSaver.co.nz. Supermarket Saver launched on the same day, last Sunday 13 May.

To give you an idea of the supermarket deals on offer:
Finish Powerball Tablets 15 Pack - $4.99
Energiser AA Batteries 10 pack - $9.99
Gillette Shave Foam 250ml - $4.99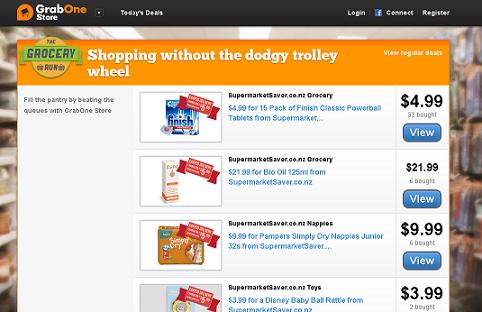 The Delivery fee is a reasonable flat rate of $5.99 no matter how much you buy. Now that beats the pants of Countdown.co.nz's $14 delivery charge. The only difference in the delivery I guess is that you can't order perishable food items through GrabOne, only pre-packaged items.
Remember the Grocery Run, isn't a separate site, its a 3 day weekly promotion on GrabOneStore.co.nz. So if you're weekly shopping day is a Thursday, then jolly well change it to earlier in the week! We think the Grocery Run slogan is quite smart: "Shopping without the dodgy trolley wheel." Enjoy!
Update: The Grocery Run is no longer operating, but you can find food deals ocassionally on GrabOneStore.co.nz