TradeMe is getting out of the daily deals game entirely with the news that they are dropping TradeMe Daily Deals at the end of July. Running for 3 years, TradeMe showcased 3 daily deals each day on their homepage.
The deals were offered by individual Trademe sellers, not TradeMe themselves. The deals worked just like any other auction, you clicked Buy Now then made payment to the seller. You also placed feedback on the seller.

The dropping of the daily deals for products comes 4 months after they announced they were dropping daily deals for vouchers. TradeMe launched TreatMe in March 2011. By March 2013 they were done with it and sold TreatMe to the management team. So with the dropping of TradeMe homepage product deals, it seems 2013 is the year for TradeMe to get out of the daily deals game altogether.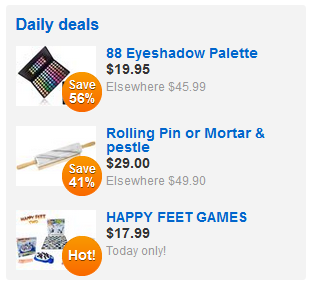 TradeMe hasnt given a clear reason for selling/shutting down the 2 sites, other than to say that daily deals aren't their core focus. Surely if they were making good money they would have kept them. With daily deals often having issues like late delivery, products quality and advertised pricing, it seems daily deals may have not been worth their while.

When they initially started TradeMe Daily Deals, many sellers were upset that TradeMe was competing against them by undercutting certain products. Many sellers rely on TradeMe for their living, so discounting key products for a daily deal would affect sellers.
Once launched those concerns seemed to die down, but its possible there was still some animosity towards them. At the end of the day, selling lots of products at discounted prices might not have been worth their while. TradeMe probably just wanted to use the daily deals to drive daily traffic to their homepage.

There was also the announcement by TradeMe that they had partnered with 1-day to provide the actual deals, not individual sellers. For whatever reason, this partnership never actually happened, and TradeMe never announced the reason.
It could have been due to a seller backlash that then they wouldn't have been supporting sellers at all, and undercutting them using a big business that didn't care about profits on indivudual items. But that was just speculation, TradeMe never said why it didn't go ahead.
The other factor for dropping homepage deals on TradeMe could be that daily deals aren't the flavour of the month anymote. While people still love a bargain, the market is saturated with deals sites. Finding interesting products is a challenge as is trying to keep everyone happy. It has probably become more hassle than it was worth.

TradeMe looks to be focussing on becoming more of a premium site selling brand new goods. They have big retailers like glassons, hallensteins and R&R sport with TradeMe stores now. Stores like R&R sport deal with large brand names and brands often won't let their products be sold on auction sites as they feel it cheapens the brand.
These larger stores and brands may have been unhappy at parallel imported products being sold on daily deals, while TradeMe was trying to convince them to sell on TradeMe. So to get large stores (and the brands they carry) on board TradeMe has probably needed to make some ceoncessions, and this has probably included dropping daily deals.
TradeMe has also been looking to add some large overseas sellers. Interestingly it seems TradeMe are looking to grow sales of higher priced goods and become more of an Amazon style site.

So that's the end of daily deals on TradeMe. Still time to get one last bargain on their homepage. The last day for daily deals is 31 July.

http://www.trademe.co.nz/