Now for one of the most significant "Daily Deals" stories of the year. TradeMe announces their new site TreatMe.co.nz.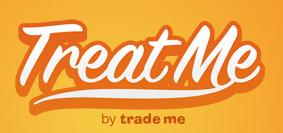 Yes on 22st March, TreatMe.co.nz launches a GrabOne clone which "could" be a shake up for the industry. GrabOne has been the only player to really go for the vouchers market. Even 1day seems to have given up.
Only GrabOne has 13 regions covered. No other sites even covers half of the territory. Will TreatMe ever rival GrabOne? Only TradeMe or the US Groupon would be serious contenders. But with the marketing budget behind TradeMe, this is shaping to be an exciting move.
Why is this move significant? TradeMe is NZ's busiest shopping site. TradeMe can easily use its web properties such as TradeMe, TravelBug, Stuff to promote its new site.
Not only that a good percentage of all NZ online purchases are made thru TradeMe.co.nz. TradeMe is a trusted brand and this is the perfect move.
Check out the site and register for the launch