Its here! TreatMe Manawatu-Wanganui has launched and is offering daily deals. TreatMe is sure to be a welcome addition for Manawatu residents who are starving for more deals! Well going by this mornings SOLD OUT sign, 1500 people will soon enjoy $30 worth of beer for just $8. I'd say that is a successful launch day!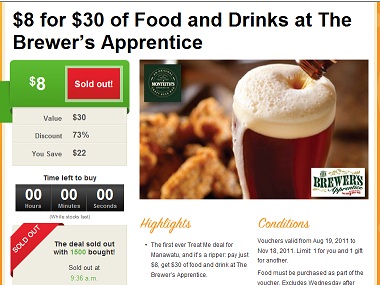 While those in the main centres have had several deals sites to choose from, the Manawatu region is largely untouched by voucher deal sites. Big sites like Groupon and Living Social have been content to stay in the main centres. Currently in this region there are only 3 voucher sites: GrabOne, TreatMe and Wowcha.
In case you didn't know, we make it easy for you to see all the deals on one page. You can view all of the Manawatu deals on our Palmerston North Deals page. As for TreatMe Manawatu, its good to see deals sites going out into the provinces. GrabOne has 14 regions covered nationwide. It looks like TreatMe will follow suit. Things are looking good for provincial NZers. I wonder which area will be next for TreatMe?
TreatMe Deals in Manawatu www.treatme.co.nz