It seems New Zealand retail giant The Warehouse is set to join the daily deals race. The daily deals website, most likely called RedAlert.co.nz, running with the red brand theme of the retailer. The new website will most likely launch in the months leading up to Christmas.
Some might say it has been a long time coming, but for the bricks and mortar retailer, online sales are making up an increasing proportion of their sales. The Warehouse started selling online several years ago. On their website today, they even have a daily specials section.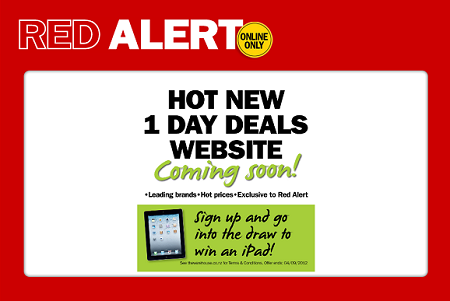 But a standalone deals site will make recognition easier for customers. For a consumer, simply going to RedAlert.co.nz and having that rememberability will drive repeat visitors. Having a separate channel solely for massive discounts, and only a few products will mean following a sales model that is proven to work in NZ - focus everybody's attention on 1 - 4 products only.
The Warehouse has the logistics to handle hundreds of bulk freight movements to stock their stores each day, running their own distribution hub in Auckland. With the growth in online sales through thewarehouse.co.nz, they now have the backend systems to be able to shift single units effectively, and we envisage, a serious volume on big sales days.
A company like The Warehouse has the resources to be able to buy significant volume in any kind of product, and price with little profit on their end. So if you are looking for real bargains, I suggest you keep an eye on this one! We reckon the launch specials will be one to watch.
Let us know your thoughts on the Warehouse launching a daily deals site on our Facebook page.