In the spirit of many other daily deals sites, Yazoom has run their own $1 deal! The deal on offer was $1 coffees from Sunday morning through to Monday with Zigana Coffe from Mozaik Cafe. Yazoom sold over 1726 deals, which is a great effort!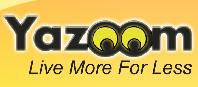 Also available at the checkout was an upsell. $4 for a coffee and muffin, or $5 for 200 grams of Roasted Coffee Beans.
Traditionally, cheap deals like this are saved for launches in new regions. Recently we've had $1 burgers from TreatMe launching in Auckland. We've had $1 bagels from TreatMe launching in Wellington. They has also been $1 Hell Pizza's and $1 Burgers from Oporto.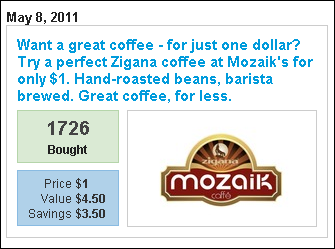 It seems Yazoom are testing different price points recently and growing their database of users with some really cheap deals.
And it seems to be working! A week ago Yazoom offered $5 mini golf for a family of 4 – a great deal in itself which was valued at $24. At $1.25 per person, it was an amazing saving. However the deal sold just 181 coupons which we were surprised at.
Today, the day after the $1 coffees, there is another $5 deal. $5 bowling per person. This discount (58%) is not as much as last weeks mini golf deal (80%), but they have already sold 489 deals at 2pm. So it goes to show, this increase in purchases is no doubt the result of getting hundreds of new members using the site yesterday.
For a startup company, its not just brand recognition. Its getting new customers to actually do a transaction with you, to break that familiarity barrier. And if you used Yazoom yesterday to buy a $1 coffee, you're likely to buy another deal shortly after!
So for those of you who picked up some $1 coffees, well done. My advice is to keep a very close eye on Yazoom. Only 6 weeks old, they are racing ahead to become one of the top NZ group buying sites.
Check them out on Yazoom.co.nz
.