The Yazoom Christchurch page has been active for a few weeks now but their real launch was just last week on the 27th June.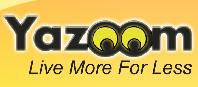 Cantabrians have had to wait a little longer than the rest of the country but its been worth the wait. You'll keep seeing Yazoom ads on TV, so when you see a deal you like, jump online!
In the past week, they've been offering a new daily deal to Cantabrians. And what a selection it's been. 50% off sailing, 50% off food, 50% off hairdresssing. Here is some of the recent deals:
$10 for $25 Food at West Coast Bar and Grill
$8.50 for 110 Golf Balls at Garden City Golf Driving Range
$12 for $30 of Wine and Breads
And those are just in the past few days. The deals change each day, and they are deals with your local businesses. So get out an support Christchurch businesses. Make sure you log on to Yazoom Christchurch, to get deals emailed to you each day.