Keeping with industry norms, Yazoom now displays their overall sales figures on their homepage. GrabOne and the leading deals sites all have a counter showing revenue. It might seem a little strange putting your sales figures out in public, but it is commonplace around the world, especially with Groupon.com.
However this "sales figure" is really the amount they've "saved" consumers, not their actual sales. But with most deals running at 50% off, this figure more or less gives us a reasonable estimation of sales.
This figure also serves as a marketing tool for the daily deals industry, showing consumer savings made. The other side of the coin of course is, the money hasn't really been saved, because a portion of consumers wouldn't have paid the full price anyway. But nonetheless it is still interesting to see sales figures from the various sites.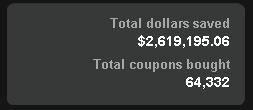 Yazoom has been running for 16 weeks. That works out to $163,699 per week. Originally starting with Auckland only, Yazoom keeps adding new regions. So this figure will start to increase exponentially which more regions contributing to this figure each day. This is one to keep an eye on, and while early days, they are the best bet to compete with GrabOne and TreatMe, as they are doing more than just the main centres.