Hamiltonians have something to celebrate this week with the launch of Yazoom Waikato.
Since April, Aucklanders have enjoyed discount voucher deals on everything from restaurants to health and beauty. And a few weeks ago, Wellington started enjoying daily deals from Yazoom. Now those in the Waikato region get a new daily deal to check out. And if you haven't heard about Yazoom yet you'll be in for a pleasant surprise.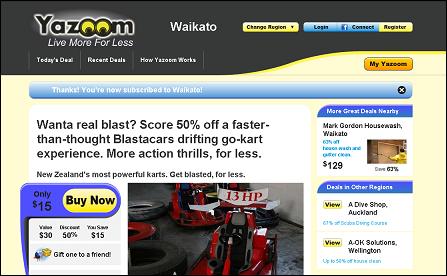 Each day a new deal is on offer for Hamilton and the Waikato region. You have just 24 hours to grab the deal before it expires, no checking the site the next day, hoping you can still get that deal! Each day a new deal will be on offer, and hopefully the deal will appeal to you. If not, check back tomorrow!
Launching on Monday 20 June, Yazoom have already offered some super deals. Only $9 for $20 worth of Indian Cuisine at Pepper & Masala in Hamilton. $15 Go-karts, making it half price. But, unfortunately you are too late to grab these deals. you'll need to check the site each day so you don't miss out. You goota be quick around here!
All Yazoom deals are a minimum 50% off. So if you are looking for something to do this weekend, then log on to Yazoom.co.nz/waikato
---