Day Sale is a New Zealand Daily Deals site. Day Sale can also refer to One Day Sale sites in general. For a general list of New Zealand daily deals site please go to our home page. To read more about the NZ Deals site DaySale.co.nz then read on!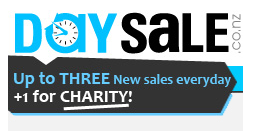 Day Sale is quite a popular deals site, but it is not yet mainstream. Day Sale have been offering X deals each day since. Similar to market leading one day sale site 1day.co.nz, DaySale offers 3 products each day, and useful, well known brands.
What makes DaySale different is that they also have one deal each day where the proceeds go to charity. They make regular donations to charity on behalf of Day Sale members. Cheap deals, and supporting local charities. Now that's a win win!
So log on to DaySale.co.nz. Have a browse through their products for the day, and if you see something you like, grab it quick! Specials are only available for 24 hours! To see all kiwi deals sites on one page go to Todays Daily Deals in NZ.