Grab One has launched today with a record breaking 10,000 Movie tickets sold at $4 each!
GrabOne.co.nz is the latest "one day sale" site to hit the NZ market. The innovative company offers a new deal each day at up to 90% off normal retail prices. But instead of selling physical products, Grab One sells heavily discounted coupons for experiences in your local city.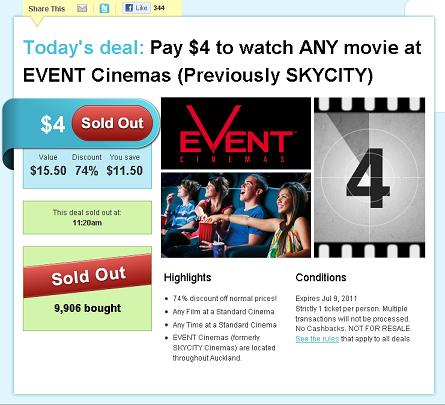 Todays deal was an "Admit One" ticket to any movie of your choice at Event Cinemas (formerly SkyCity Cinemas). The price for one ticket was an unprecendented $4.00! Normally priced at $15.50, this is a discount of 74%. Grab One members quickly snapped up 10,000 tickets. This level of sales is unheard of for a brand new website.
Grab One is the most promising launch of a Daily Deals site we've seen for a while. The website is run by New Zealand auction site Sella.co.nz, and owned by APN Media. Grab One has a large network of big brand companies with which to organise some exceptional deals for members.
You can view a great video to see just how Grab One really works. While you are there sign up as a Grab One member to get notified daily when new deals go online. Don't miss out on crazy deals like this!
Check them out: http://GrabOne.co.nz